And, the first review is in.
From MLTD magazine the first review of the new albumIn Sonitus Lux-Tunnel VisionIn Sonitus Lux is preparing for the release of his next project entitled, Thundermoon. To grab our attention a little he has released this dark and ambient track that will surely be taking you on a journey. Let me put it this way, if I was going on introspective journey while on peyote then I would listen to this.
Indeed!
Well, there's good news and bad news. The single, Tunnel Vision, will be released July 29th and the album, Thundermoon, on August 26th. A fall tour is being booked.
The bad news?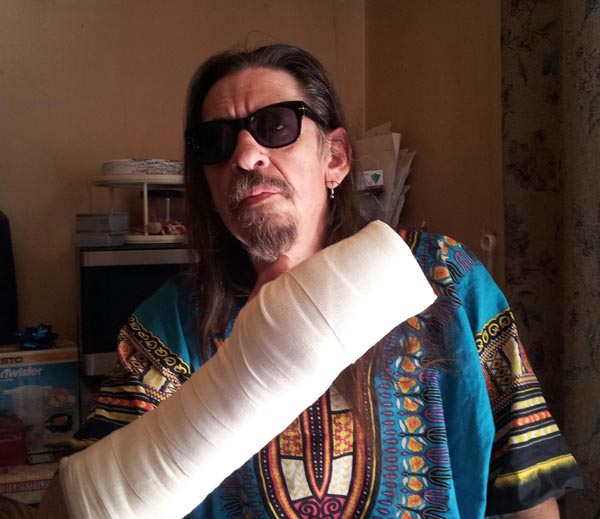 I have four fractures in my right hand. This has forced me to cancel/postpone all July performances and most of August as well.
Holy crap!
It's April 20th 2017 and I haven't updated this thing? Time to remedy that.
A lot of stuff has happened……..
First of all my hand healed well and doesn't affect my playing, something I am very thankful for.  Thundermoon, featuring Jason Robert Elliott, came out August 2014. The fall tour went well as did all subsequent tours In June of 2015 The Equinox Session, featuring Kevin Dunn was released. In April 2016 the tour wagon was involved in a wreck that totaled it and nearly me as well. We had planned on releasing the next album, Of Zen and Texas, that May. It features P.D. Wilder of Austin Texas on guitar.  Of course this didn't happen. Most of 2016 was spent in and out of hospitals so there was no touring after April and the album release pushed back Despite all this there were a handful of local performances.
You get by with a little help from your friends.
2017 finds me on the mend. Not 100% but enough and getting better. The new album will at long last come out early this summer and tour planning has commenced.
And yes, In Sonitus Lux is moving forward……
Damn it! I did it again. I suck at this…..      Anyway, it's September 23rd 2019 and the fact that it's fall equinox for some reason made me remember that I haven't updated this in quite some time.  Again, a lot has happened. Apparently hobbling around on a cane is now a fact of life. I won't bore you with the details but suffice to say that I have more aftermarket parts in me than a cheap used car. In 2018 Of Zen and Texas was released and touring recommenced. In 2019 touring continued and the fourth album, As Yet, was released. It features Bill Pritchard on electric tuba and cimbasso. Plans for 2020 include more touring and another album.
And the journey continues………
Soooo…..2020 turned out to be the year of the plague. The entire world  was affected and we were no exception. Tours were canceled, recording postponed.  Sequestration till vaccination. ISL hasn't performed in over a year and this has NEVER happened before.  It's March 26th 2021 and it looks like we're finally getting past this. The first few performances are booked and as the situation becomes more fluid we will gradually pick up where we left off.
Remember, after the plague came the renaissance.
Namaste